Penthouse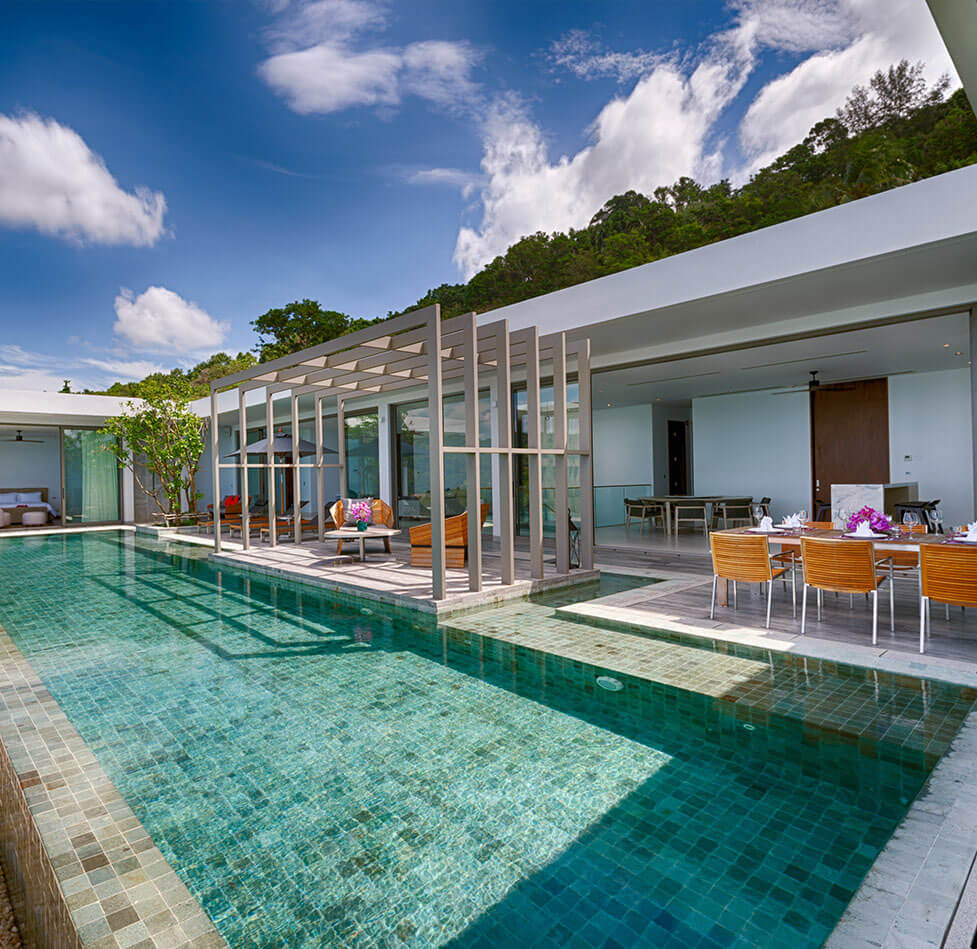 About Malaiwana Penthouse
Blending modern tropical luxury and easy island living, the Penthouses at Malaiwana are vibrant holiday retreats just metres from Naithon Beach. With panoramic sea and sunset views from their hillside setting within a secured estate, these four-bedroomed Penthouses are ideal for families or groups of friends seeking total serenity and five-star hospitality.  
The sleek, symmetrical design of the Penthouses takes full advantage of the views. Spacious indoor and outdoor living areas and luxurious bedrooms wraparound a glittering 20-metre pool that stretches across the top floor of these stunning apartment residences. Sip a pre-dinner cocktail while relaxing in the sumptuous living room, enjoy a dreamy sunset over the Andaman Sea from one of the romantic poolside master suites, or curl up on one of the soft sofas in the media room to watch a movie. Sliding glass doors spanning the entire front of the Penthouses connect the bright, chic interior spaces seamlessly to the sun-kissed pool terrace and glorious tropical surrounds.  
Just a short walk or buggy ride downhill from the Penthouses is Naithon, one of Phuket's most exquisite beaches. This one-kilometre stretch of soft golden sand is blissfully undeveloped and surrounded by lush parkland.  Indulge in a relaxing day on the beach, sunbathing, swimming and sandcastle-building, or explore the turquoise waters by snorkel or stand-up paddle. Seaside vendors and casual eateries line the beach road, offering tempting treats such as fresh sweetcorn and chicken satay, but for added glamour try dinner at the Trisara resort, just a few kilometres to the south.  The Penthouses are only a 20-minute drive away from Phuket Airport and within easy reach of several Phuket sights and leisure activities including golf, spas and yacht charters.
Throughout your stay at Malaiwana you'll be warmly looked after by a team of full-time staff including a talented Thai chef and English-speaking villa manager, who will ensure your every need is catered to within the estate and beyond.
Layout
The Penthouses are bright, spacious, single-storey luxury apartments, each spanning the entire top floor of an exclusive three-level residence. The ground and first levels house the Duplex residences. Reached via stairs and private lift, the Penthouses' living areas and bedrooms are arranged in a U-shape around the 20-metre pool and terrace. At each end of the pool is an ocean-view master suite. Between the master suites, and spanning the width of the pool terrace, is a chic open-plan space housing the Penthouses' kitchen, dining and living areas. To the rear of the Penthouses are a cosy media room and two generous guest bedrooms.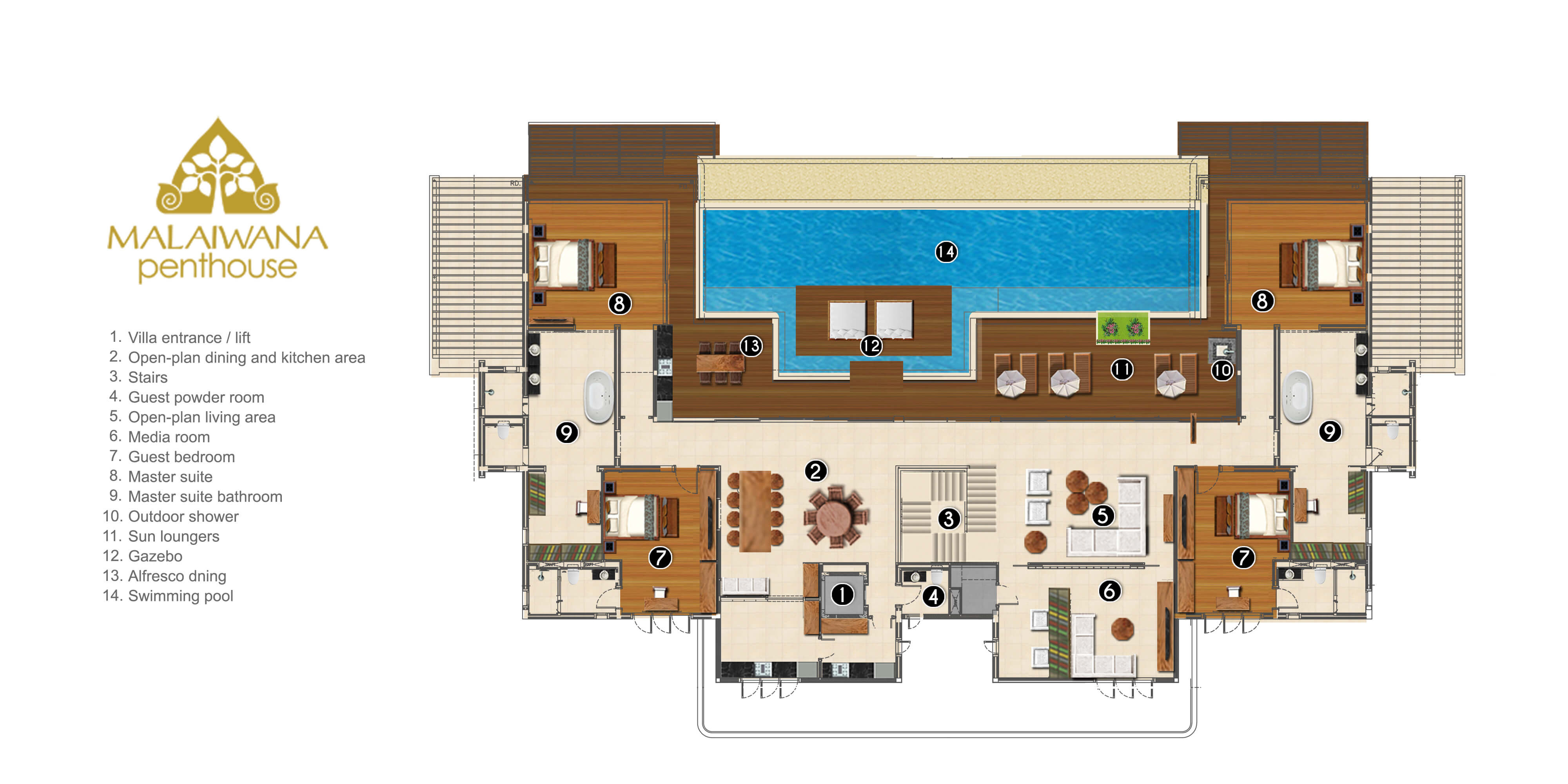 Download in high resolution
Living Areas
Indoor living
Relax and entertain with flair in the bright open-plan living, dining and kitchen area, with sliding glass doors that open to the pool terrace.  White and grey design accents give this modern space a fresh, clean look, forming a subtle and calming contrast to the colourful tropical surrounds.  In the gleaming white kitchen, set to the back of the dining area and marble bar, the chef prepares delicious meals to be enjoyed at the circular dining table for nine.  Comfortable seating in the living area provides sumptuous surrounds from which to relax and enjoy the views, while the cosy media room, equipped with a home theatre system, is furnished with plush sofas that can be converted into twin beds to accommodate two more guests.


Outdoor living
The fabulous, ultra-chic Penthouse pool terrace is an Instagram-ready spot with incredible views across Naithon Beach and the surrounding forested hills.  Hovering over a section of the 20-metre marble-tiled pool is a gazebo furnished with two lounge chairs, while stylish black sunbeds and a loveseat border the pool's edge.  An outdoor dining table and barbecue area make an unbeatable setting for sunset cocktails and long, lazy, alfresco dinners on a warm tropical evening.
Bedrooms
Master suites
Easy access to the pool, huge marble ensuite bathrooms and 180-degree sea views, make these two mirror-image master suites the most coveted bedrooms at the Penthouses.  King-size beds and soft round loveseats offer comfy spots to take in the views through the vast sliding glass doors, while an indulgent soak in the bathrooms' free-form tub will melt away any remaining pre-holiday tensions.  TVs and dressing rooms fit for royalty complete the master suites' ample comforts.


Guest bedrooms
The generous size and ensuite marble bathrooms of the two guest bedrooms offer a comfortable retreat for guests of all ages.  Twin beds can be converted to a king-size bed if preferred and the rooms are well-appointed with spacious mirrored wardrobes, desks and TVs.
Extra bedroom (media room)
For larger groups, an extra mattress may be set up on request at an additional cost. Note, however, that there is no bathroom connected to this room.
Experience
Staff
Guests at Malaiwana enjoy the exclusive care of a full-time manager, chef and housekeeping staff with flexible working hours.  With this team's blend of warm Thai hospitality and professional standards of service, a restful and well-pampered holiday is assured.  Please feel free to discuss your group's preferences with the manager.  For example, just let the manager know whether you'd prefer staff to be visibly 'front of house', ready to attend to your every whim throughout the day, or if you'd prefer more privacy, with staff staying discreetly out of sight until you need them.
Manager

The English-speaking manager liaises with guests, and communicates their preferences to the chef and staff to ensure that everything is handled with smooth efficiency.  An excellent source of local knowledge, the manager will be pleased to provide suggestions for sightseeing and dining out in Phuket, as well as assistance with tour and transport bookings.

Chef

The skilled chef prepares breakfast, lunch, dinner and snacks according to guest requirements.  Meals are prepared from a suggestion menu of mainly Thai and some western dishes, tailored to accommodate special dietary needs and guest preferences.

Housekeeping

A team of staff handles daily housekeeping duties, as well as assisting the chef with kitchen and dining service.

Pool

Regular pool-cleaning and maintenance services are taken care of by a team of estate staff.

Security

Estate staff keep Malaiwana safe and secure 24 hours a day.


Dining
With its stellar kitchen and personal chef at your service, dining is a delight at the Penthouse Residences at Malaiwana.  Specialising in Thai cuisine, the chef is available to prepare all meals, from light healthy breakfasts to seafood barbecue feasts.  Dine indoors in air-conditioned comfort or enjoy a relaxed meal on the pool terrace, cooled by the sea breezes.
The villa's suggestion menu brims with a tasty array of Thai dishes, set breakfasts and a selection of western dishes.  Highlights include tom kha gai (delicious chicken soup made with coconut milk and fragrant galangal); gaeng phed ped yang (red curry with roasted duck); pla thod ta rod (crispy sea bass with five-flavour sauce), and the chef's specialty Gaeng ka ree nue fak tong (beef tenderloin and pumpkin in Thai yellow curry).
Meals are charged at the cost of provisions plus a 20% handling fee and a government tax, and guests are requested to provide cash to cover groceries in advance.  The staff will keep receipts for reference when settling the bills.

Spa
Breathtaking views and a peaceful ambiance make the Penthouse Residences at Malaiwana an ideal setting to enjoy a revitalising spa session.  The pool terrace offers plenty of space for a sea-breeze-cooled massage, or escape to one of the bedrooms for a private treatment in air-conditioned comfort.
Your manager will be happy to arrange for one of Phuket's skilled spa and beauty specialists to attend you at the Penthouse.  Browse the spa menu and choose from one of the many relaxing treatments on offer, including traditional Thai massage, aromatherapy massage, body scrubs, pedicures and manicures.


Families
With a thoughtful design balancing private and shared spaces, and the inviting sands of Naithon Beach just minutes away, the Penthouse Residences at Malaiwana are ideal for a peaceful and relaxing family break.  The cheerful, modern interiors that connect fully to the gorgeous tropical setting will appeal to children while older guests will relish the chic comforts.  The Penthouse's 20-metre-long private pool is the largest within the Malaiwana residences, its glittering expanse just waiting for families to dive in and enjoy.  Young children will need to be watched closely around the pool, however, as there's no safety fence.
The Penthouses are ideally suited for multi-generational families. A lift effortlessly whisks guests up to their top-floor hideaway, and all four bedrooms have sumptuous ensuite bathrooms and enough space and amenities for guests of any age to enjoy.  Couples will covet the huge king-bedded master suites, while the guest bedrooms offer flexibility with twin beds that can be zipped together to make a king-sized bed.

Children's equipment can be hired from a local agency at a reasonable cost. Just let us know your family's needs in advance and we will be happy to organise this for you.  Babysitters can also be arranged if mums and dads fancy a child-free night out (extra charges apply).  
The staff's attentive service extends to children as well.  The chef can accommodate special requests and will happily recommend kid-friendly dishes to introduce young gastronomes to the delights of Thai cuisine.
Naithon Beach is popular with families and Phuket has a wealth of leisure activities and sights for fun-filled days.  Check our Things to Do page for more ideas, and be sure to ask the staff which attractions they'd recommend for kids itching to explore.
Quick Facts
Location
Naithon Beach, Thalang, Phuket, Thailand.
Capacity
8 people (2 master suites with king-size beds; 2 ensuite guest rooms with twin beds convertible to kings). An extra mattress may be set up on request at an additional cost. 
Living areas
Open-plan dining and living room with sliding doors to terrace; adjoining kitchen and bar; media room; pool terrace with barbecue, outdoor dining table, lounge seating and sunbeds.
Pool
20 x 5m infinity-edged marble pool.
Staff
Manager; chef; housekeeping; service staff; pool maintenance.  Babysitters and massage/beauty therapists available on request (additional charge).
Dining
Continental or Asian breakfast included. Private chef prepares breakfast, lunch and dinner (Thai and western menus), catering to special dietary requests wherever possible. Grocery cost is charged 20% handling fee which is subject to tax at the prevailing rate.
Communication
Complimentary WiFi access; mobile phone provided for guests.
Entertainment
Flat-screen TVs in every bedroom; TV home theatre system in media room.
For families
The Penthouse residences welcome families with children of all ages.  A good range of children's equipment can be hired locally on request (additional charges apply).
Spa
Choose from a comprehensive spa menu for a relaxing in-house treatment carried out by professional beauty and wellness therapists (extra cost applies).
Transport
Airport transfer, car hire and taxi pick-ups are easily arranged with your manager; complimentary buggy shuttle service between the estate entrance and Penthouse.
Weddings & events
The Penthouse residences are suitable for small gatherings only, but within the estate events for up to 80 people can be arranged at the 6 Bedroom Villa Haleana with prior notice (event fee applies).
Additional facilities
Barbecue; 4 safety deposit boxes.
Managed and marketed by